Captain Moran Vardi, naval commando fighter, killed in a battle against terrorists i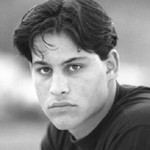 n Nablus, July 6th 2004.
Moran's Life and death are a symbol of devotion, dedication and contribution to the motherland and it's people. The "Moran Vardi" association endows its way and values like: friendship, community responsibility, solidarity and love to the homeland and community among youth.
In the name of friendship and solidarity, together with our friends and donors we are carrying out two major activities:
For wounded soldiers: several events of hosting hundreds of wounded soldiers are processed during the year. They include small events in restaurants and halls, dinner, an artist's show and many activities. These events bring the wounded soldiers moments of joy spreading a smile on their faces while forgetting their daily troubles.
The main effort is to put on a long weekend in an Eilat hotel. A grandiose production which deals with all their needs from transportation solutions to the full guest plan for the weekend: meals, artists show every night, DJ; half a day cruse at the Red Sea with lunch inclusive, water sports etc. The most important is the love given to them by the hotel staff and all the dedicated volunteers. The weekend enables them to forget their troubles, meet new and old friends and laugh a lot. This weekend stays in their hearts for a long time.
We deeply need your assistance. It's important for us to enable the goals of supporting those who put their lives in danger in order to serve the country.
Even though we are a none-profitable association and all members act voluntarily with no salary, producing the weekend is very expensive. We deeply appreciate your donation. On behalf of my friends and wounded soldiers I wish to thank you for your time and money.
Yours Sincerely,
Shimon Moscovici
—
Contact Details:
Phone: +972 52 2414884
E-Mail: moranvari.asso@gmail.com
Bank Hapoalim, Binyamina Branch 621, Account # 178705 (Moran Vardi Association)
The Moran Vardi Association has the TAX department certificate of approval no. 46 for donations.